Farm Equipment - New and Used For Sale
Pick A Section
(Click circle next to section):
Pick A Category
Other

(orchard/fruit harvesters, beet harvesters, vegetable harvesters)

Other

(boll buggies, grain vacs, defoliators)
Other

(bale trailers, hayracks)
Farm Equipment Attachments, Components, Dismantled Machines & Parts Search
Pick An Attachment/Component Category
Tractorhouse.com
TractorHouse is your headquarters for farm equipment used and new, including any John Deere tractor, tractor parts, used tractors for sale, farm tractor parts, used tractors including any Massey tractor, International tractor, New Holland tractor, Ford tractors for sale and most other makes of used tractor or tractor for sale. The site features not only used John Deere tractors but thousands of farm classifieds for Massey Ferguson tractors and other used farm tractors for sale. If you're in the market for any ag equipment or used farm implements, read TractorHouse and visit TractorHouse.com often.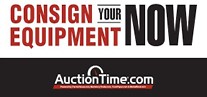 CORN
Dec '16
3.3375
-0.0275
SOYBEANS
Nov '16
9.5425
-0.0050
SOYBEAN OIL
Oct '16
33.51
0.21
SOYBEAN MEAL
Oct '16
302.6
-0.5
WHEAT
Dec '16
4.0375
-0.0075
OATS
Dec '16
1.7625
-0.0050
ETHANOL
Oct '16
1.527
0.011
ROUGH RICE
Nov '16
9.725
0.125
MINI SOYBEAN
Nov '16
9.5413
-0.0200
MINI CORN
Dec '16
3.3375
-0.0238
MINI WHEAT
Dec '16
4.0375
-0.0100
Local Conditions
LEESBURG, VA
As reported at LEESBURG, VA at 5:00 AM
Local Forecast
LEESBURG, VA

Sunday

Monday

Tuesday

Wednesday

Thursday